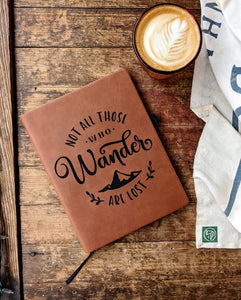 "All that is gold does not glitter, Not all those who wander are lost; The old that is strong does not wither, Deep roots are not reached by the frost." J.R.R Tolkien
Welcome to North to South Design's newest line, Vegan leather journals! These journals have a lovely soft finish, with a beautiful dark engraving without the guilt of thinking about what happened to poor old Bessie's hide. 

Each journal is 7" x 9" with 80 lined sheets, 160 pages. Each journal comes with an attached pen holder so you don't ever have to scramble for something to write with.